Everything you need to succeed
Whether your company is big or small, Ritchie Bros. can help you sell your heavy equipment and trucks. With our multiple flexible solutions, industry-leading market insights and unmatched ability to drive global buyer demand, you can sell when, where and how you want and get the returns you need. When you sell with Ritchie Bros., our entire organization is at work for you, and your success and satisfaction are our goals.
Multiple sales channels
Unmatched global buyer demand
Comprehensive fleet management
Accurate, in-depth market insights
60+ years experience
*The information collected will be retained in accordance with our privacy statement.
Your choice of selling solutions
Unmatched global buyer demand
No one drives global demand & buyer confidence like Ritchie Bros. When you sell with us, you benefit from our multi-channel global marketing campaigns that attract the most motivated buyers from around the world.
More qualified buyers
We're leaders in multi-channel marketing with the industry's largest active buyer base.
More committed buyers
Detailed inspections, videos, warranties, insurance, and the Ritchie Bros. name, deliver confident buyers.
More funded buyers
Our buyers bring +$50B in purchasing power, plus easy financing from Ritchie Bros. Financial Services.
More active buyers
158M+ visits to Ritchie Bros. websites, up 13% (YoY)
Record bidder registrations (live auctions), 1.37M+, up 12% (YoY)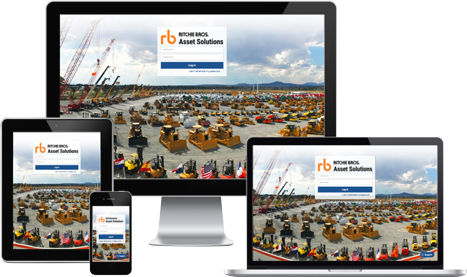 Comprehensive fleet management
Ritchie Bros. offers you the tools and services to efficiently manage, value & sell your fleet, including a free all-in-one inventory management system from Ritchie Bros. Asset Solutions; enterprise-level valuation, pricing & remarketing tools from Rouse Sales; and a streamlined parts procurement & supplier network with SmartEquip.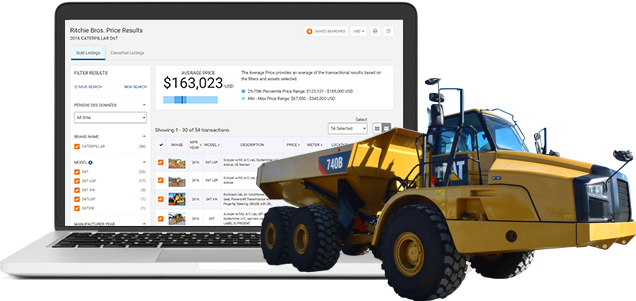 Accurate market insights
Maximize your assets' values and returns with a comprehensive set of data tools & services, including current pricing results from our global sales channels with Ritchie Bros. Price Results; global pricing & sales trends in our free monthly Market Trends Report; and leading market insights platform for the rental industry from Rouse Analytics.