Everything you need to know about
Ritchie Bros. auctions.
Whether your company is big or small, or you have one dozer of a fleet of trucks – you can sell with Ritchie Bros. We've been conducting live and online unreserved public auctions since 1958 – helping thousands of sellers around the world every year.
Every year, tens of thousands of sellers count on Ritchie Bros.' unreserved (online & onsite) auctions to help them sell heavy equipment, trucks and other assets quickly, efficiently and for the best returns possible. Sell on the global market from our auction sites, off-site locations, or on the farm auctions.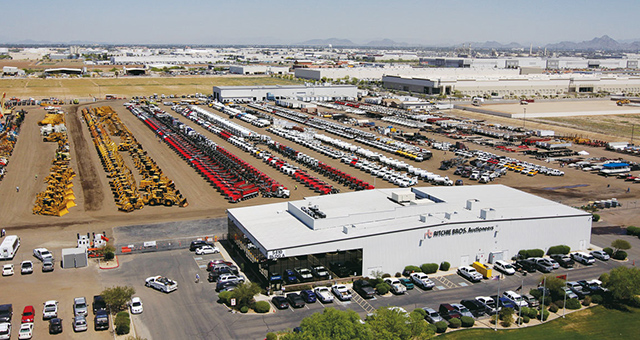 Site and regional auctions
Ritchie Bros. conducts regular live auctions at 40+ permanent auction sites around the globe, with both live auctioneer and Timed Auction formats. We gather equipment from many different sellers, and then sell it all on auction day – attracting onsite and online buyers from around the world.
Everything about our efficient and professional auctions, onsite services, storage, and our first-class facilities, is designed to make business easy for sellers and buyers.
Off-site auctions
Ritchie Bros. can help big consignors navigate complex dispersal processes that involves many stakeholders and reached across multiple borders. Ritchie Bros. uses its size, strength, and logistical know-how to provide off-site auction solutions that no other company can offer.
By delivering an unrivaled suite of selling channels, operational reach, data insights and marketing power, Ritchie Bros. successfully provides stakeholders with higher-than-expected returns and seamless logistics.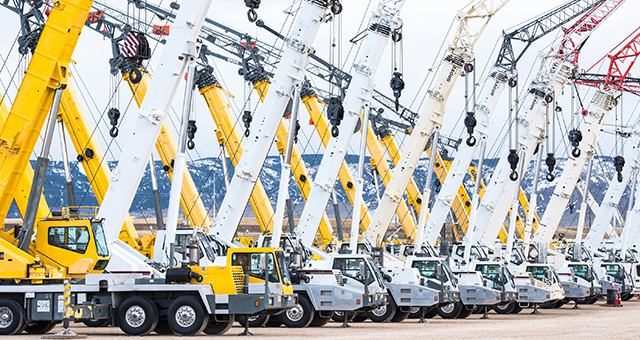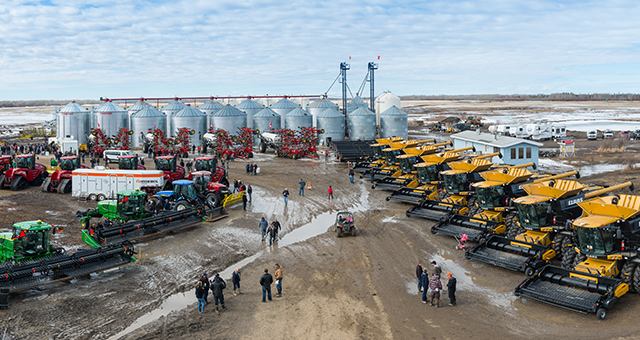 Farm auctions
When it's time to sell your ag equipment, farmland, or both, you need an auction company you can count on – one with the experience, market knowledge and a solid reputation for helping Canadian farmers get the best returns possible. That's Ritchie Bros.
Our all-inclusive service saves you time and hassle so you can focus on running your business while we work to get you maximum returns. There are no hidden costs, no charge for appraisals, photos or online listings. We take care of the entire selling process from start to finish.
Multiple selling formats – constantly great results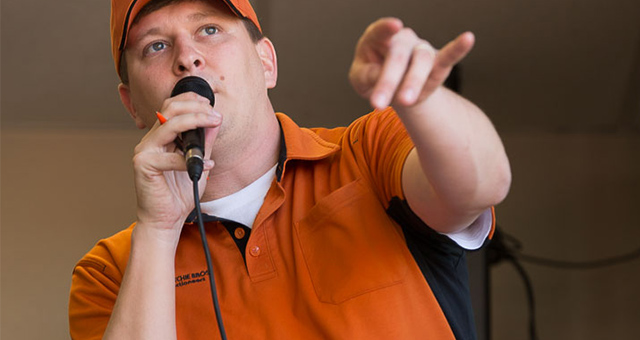 Live Auctioneer
We conduct live unreserved public auctions with both on-site and online bidding. Every Ritchie Bros. live auction is strictly unreserved. That means there are no minimum bids or reserve prices, and every item is sold to the highest bidder on auction day.
Some live Ritchie Bros. unreserved auctions are conducted by experienced, professional auctioneers working to get you the best returns possible.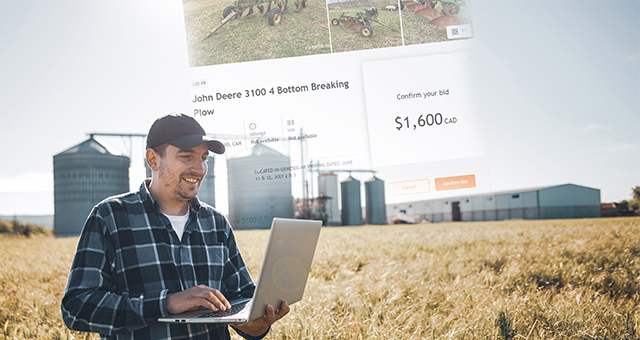 Timed Auction
Our automated online Timed Auctions offer another easy, convenient way to buy and sell. We sell tens of thousands of items each year through this industry-leading platform – everything from farming, construction and transportation equipment to attachments, consumer goods, real estate and more.
Timed Auctions are an automated online auction system with no auctioneer. Buyers can bid via our website from their home or office computer or from a mobile device. Bidding opens a few days before the auction date and closes at staggered times during the auction.